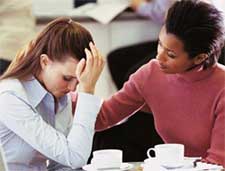 That feeling of tightness and tension
Stop when you feel the tightness and breath deeply.
Look in front of you see what is there, really see.
Smile, yes smiling changes the tension.
Then look at the cause of the tension.
If you can do something about it fine do it.
If you cannot then change focus move your mind onto something else.
Something requiring your full attention
Make decisions on what to do.