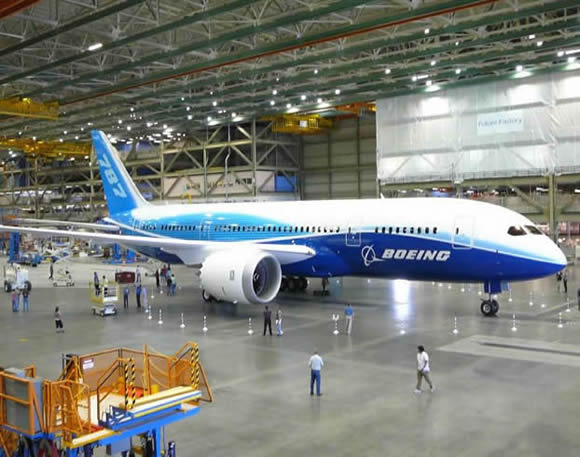 Shortly after 9am on Sunday, a new chapter will begin in European aviation history when flight ZA003 touches down in Hampshire and heralds the arrival of the much-anticipated – and greatly-delayed – Boeing 787 Dreamliner, the world's first airliner to be largely built from carbon fibre.
.
The first Boeing 787 to leave American soil will arrive at the Farnborough International Air Show this weekend for a three-day international debut to display the aircraft that the US aviation giant insists represents a quantum leap in aircraft technology by abandoning the traditional method of building a passenger jet out of sheets of riveted aluminium.
.
Along with a raft of innovations that includes distinctive jagged cowlings that look as if the engines have been trimmed by pinking shears, the lightweight materials are claimed by Boeing to make the new plane one of the most eco-friendly ever produced, burning 20 per cent less fuel than its rival equivalents.
.
Despite a troubled history of logistical and technical problems which means it will enter service some two years behind schedule, the 787 has become the fastest-selling wide-bodied jet in history, with more than 860 on order to airlines including Virgin Atlantic and British Airways.
.
All Nippon Airways (ANA) will be the first airline to receive the jet when deliveries begin at the end of this year.
.
The Farnborough show is one of the aviation industry's most important annual jamborees, providing Boeing and its European rival, Airbus, with the opportunity to stage a beauty contest between their two flagship products – the 787 and the A380 "superjumbo" – as each company seeks to ratchet up sales in the aftermath of the recession.
.
Tom Downey of Boeing said: We've chosen Farnborough as a venue for spotlighting the breakthrough capabilities and innovations of our commercial airplanes.
.
We look forward to an optimistic mood this year as industry leaders meet amid signs of economic recovery.
.
Built from layers of carbon fibre sandwiched around a mould and then heated to create a super-strong fuselage, the Dreamliner breaks new ground in aviation by being half-built from hi-tech composites which Boeing claims are more robust than metal and do not suffer from the problems of metal fatigue produced by aluminium airframes.
.
As a result, the 787 – which can carry between 210 and 330 people – has bigger windows than conventional jets and the cabin can be pressurised to a higher level, increasing passenger comfort.
.
Boeing has kitted out the test aircraft with 30 rows of seating to show off the interior to industry executives and the media.
.
Anyone sufficiently impressed to buy a 787 will need $161m (£104m) to secure the entry-level model.
.
Tom Downey - Boeing